Three new polls
Söder or Laschet? Voters name clear favorites to run for chancellor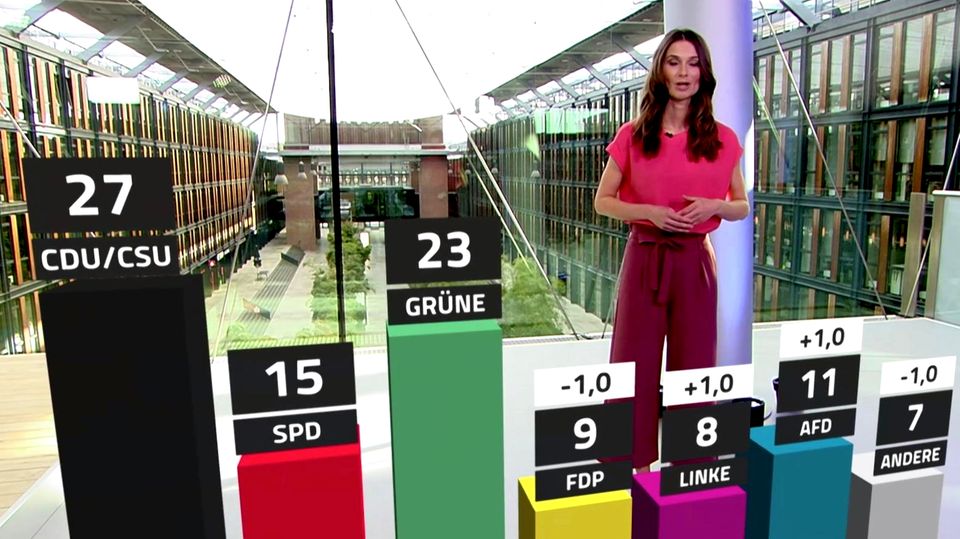 Three new surveys, one clear result: Markus Söder is ahead of Armin Laschet when it comes to the Union's candidacy for chancellor. But most executives hold on to the CDU chairman - and downplay the importance of the current polls.
In the central decision-making phase for a Union chancellor candidate, a new survey supports CSU boss Markus Söder in the race against CDU chairman Armin Laschet. Currently, 44 percent of German citizens and 72 percent of Union supporters consider the Bavarian Prime Minister to be the more suitable candidate to lead the Union parties in the federal election, such as the one raised by Infratest Dimap Germany trend of the ARD "Morgenmagazin" revealed.
In contrast, in North Rhine-Westphalia's Prime Minister Laschet, only 15 percent of German citizens and 17 percent of Union supporters see the more suitable candidate. From a Survey of the opinion research institute Insa for "Bild" It also emerges that the Union should expect a candidate for Chancellor Laschet with 27 percent of the vote in the federal election in September, with Söder it is 38 percent.
That comes to a similar conclusion "ZDF Politbarometer": 63 percent of all respondents and 84 percent of CDU / CSU supporters consider the CSU chairman to be suitable for chancellor (no: 31 percent and 12 percent, respectively), while CDU leader Armin Laschet only trusts 29 percent of the office to be in office and within his own ranks 43 percent (no: 61 percent or 49 percent; the rest 100 percent here and in the following "don't know").
Union believes polls are unreliable
However, various leaders of the Union have already emphasized that on surveys alone - especially so far before the election - can not be relied on. On Thursday evening, several CDU top politicians stood behind Laschet. The Prime Minister of Schleswig-Holstein, Daniel Günther Söder, called on them to withdraw. He told the "Spiegel" that a "fearful look at current polls" was not enough to make a decision of this magnitude.
"The presidium and federal executive board of the CDU with all regional associations and associations clearly spoke out in favor of Armin Laschet last Monday," emphasized Günther. Söder had previously made it clear that in this case he would support the candidacy of the CDU boss without resentment. "I have no doubt that the word of a CSU chairman and Bavarian Prime Minister applies. But it's slowly getting time to deliver on this clear promise. "
Decision on candidate for chancellor this week?
Hessian Prime Minister Volker Bouffier told the Hessischer Rundfunk on Thursday evening: "It is absolutely clear that the big one CDU - Markus (Söder) always said that - who has the first access right. And that's exactly what we did. "When asked whether he was wholeheartedly behind Laschet's candidacy, Bouffier replied:" Yes. Why not?"
Laschet and Söder had announced that they would make a decision on the later this week Candidacy for Chancellor to announce. At first there was no information about an exact date or a format in which such a decision should be made and announced.
The DeutschlandTrend is a random-based telephone and online survey by Infratest Dimap on behalf of ARD-Morning magazine. From April 13th to 14th, 1.174 eligible voters in Germany were surveyed. Missing 100 percent values ​​mean: don't know / no answer.
A total of 15 citizens were surveyed for the Insa survey on April 2021, 1007. The maximum statistical error tolerance is +/- 3,1 percentage points.
The poll for that ZDF The Mannheim research group conducted a political barometer over the telephone from April 13 to 15, 2021, from 1292 randomly selected voters. The margin of error is around +/- three percentage points for a share of 40 percent and around +/- three percentage points for a share of ten percent. -two percentage points.
Other sources: "ZDF Politbarometer", "ARD Germany trend", "Bild.de".
tkr AFP