Interview at ProSieben
Olaf Scholz wants to be the experienced statesman - but in this format he can only fail
The SPD chancellor candidate meets the moderator Linda Zervakis at ProSieben. In the end, both are kind of solid.
By Jan Zier
When Olaf Scholz if he speaks of being the next chancellor, or at least "realistically calculating it", then you never really know whether he really believes it. Or just bravely want to convey confidence and the will to win, yes: must. In its self-image, however, the SPD is still a large and important people's party, even if its actual competitors today are the FDP and AFD, and no longer the Greens and the Union.
At the transmitter ProSiebenThe SPD politician, who recently wanted to make a name for himself as a political figure, ranks behind the top Green candidate Annalena Baerbock, who reached 2,7 million people there, but still ahead of his CDU opponent Armin Laschet. So here he is still on par. Sitting opposite him are Louis Klamroth and Linda Zervakis, who recently rose from news reader to presenter.
ProSieben's broadcast concept stipulates that this interview should also come across as entertaining, because of the young people. Here - that's the traditional distribution of roles - Mr Klamroth, as a bad cop, is initially responsible for the tough questions, Ms. Zervakis, as a good cop, but first of all for objections like this: "They say you have a sense of humor". As a result, the candidate, as expected, turns out to be humorless, but very serious. "If people think that I can't get out of myself, then they don't really know me," Olaf Scholz is allowed to say right at the beginning. But somehow he stays inside himself even in this show. as Linda Zervakis Asks him provocatively, with a view to the corona policy of the federal government: "Are the children less important to you than Lufthansa?" Scholz explains that he is "angry" about this comparison. But it is not really noticeable to him.
Olaf Scholz wants to be the experienced statesman
The broadcaster granted the interview a full 45 minutes, but at the same time all topics should at least be touched upon. It's about Israel and climate protection, diversity and Corona, gender and the Hartz laws, the Wirecard scandal and poverty in the country, the balance sheet from 19 years in government and the question of how religious Olaf Scholz is. All these topics are dealt with in the Parforceritt, so no real conversation can develop. And again and again Olaf Scholz wants to go back and forth, trace the big lines, give the experienced statesman. Because that's what he can score with, especially in comparison with Annalena Baerbock. But the attempt must fail in a format like this - and Olaf Scholz finds it difficult to set the spotlights in this hectic change of subject.
When it comes to the abolition of Harz IV and the introduction of the SPD The chancellor candidate is asked: How much more than the 446 euros they are now entitled to do they have in their pockets? Scholz has no clear answer to this.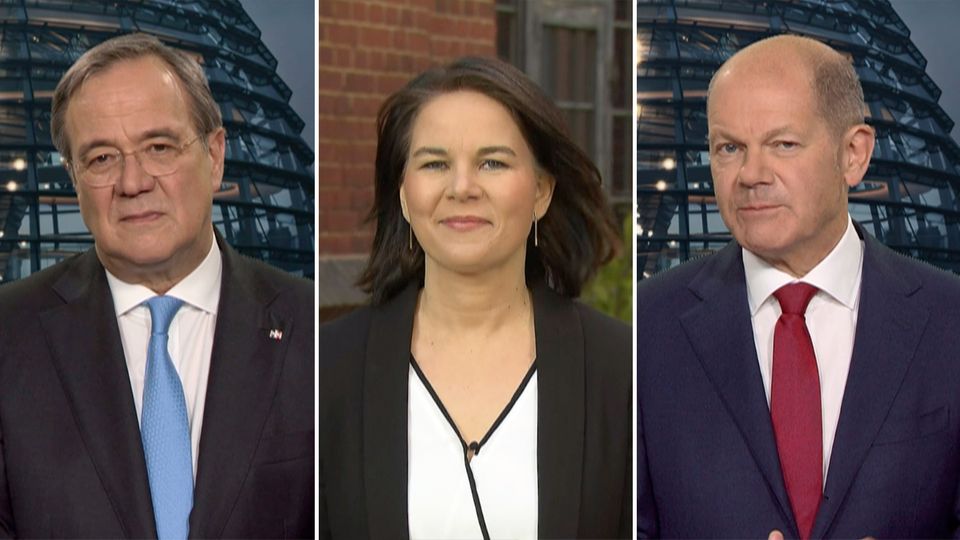 Once that Olaf Scholz helped enforce the Hartz laws, the social democratic fall of man of the unhappy Schröder years. But everything that he now says about the question of what will actually be different, better than under the Hartz IV regime with this new citizen money - it immediately fades into being forgotten. Olaf Scholz would rather join Willy Brandt and Helmut Schmidt than next to Gerhard Schröder this evening. No, his name is not mentioned here.
"I'm still on the left," says Scholz, and that sounds like a bravely presented formula that wants to promise certainty. "It should be fair," he says, and then soon there is a reference to a minimum wage of twelve euros, his central election promise, which is supposed to bring ten million people a wage increase.
The findings
Olaf Scholz has learned: He does not consider himself rich, he once said in an interview and received a lot of criticism for it after it was calculated that he and his wife, the Brandenburg Education Minister, together on a gross monthly income of around 30.000 euros come. Today he answers the question: "Are you rich?" With a resolute "Yes!"
He does not rule out a coalition with a CDU, for which right-wing winger Hans-Georg Maaßen also sits in the Bundestag.
The internal combustion engine will not be banned in 2030 if Olaf Scholz has his way. He does not consider free local transport for everyone to be realistic. After all, flights should cost at least 50 to 60 euros, i.e. as much as all the fees incurred together.
The SPD candidate for chancellor defends the controversial Nord Stream 2 pipeline.
In the Wirecard scandal, he says he has "nothing to blame" for.
In the corona pandemic, closing open-plan offices and not just theaters, restaurants and schools would be a "wrong decision," says the Vice Chancellor.
Scholz does not want to touch the compromise that envisages a coal phase-out in 2038. At the same time, Germany is to become climate neutral by 2045 - in March the SPD still set a target of 2050, but that was before the judgment of the Federal Constitutional Court on this subject. If the 1,5 degree target - to which Scholz is of course also committed - is to be adhered to, the country would have to be CO2038-neutral by 2, says the German government's expert council for environmental issues. "We'll have to do a lot of things that nobody thinks about today," says Scholz.
The conclusion
As expected, Linda Zervakis is also a passable presenter - she doesn't have to hide behind the veteran talk show colleagues. Olaf Scholz acts just as moderately and solidly as usual. But even on this evening he cannot really warm the social democratic heart.