Health system collapses
"Help me save my mother's life": The drama of poor Venezuelans in the corona crisis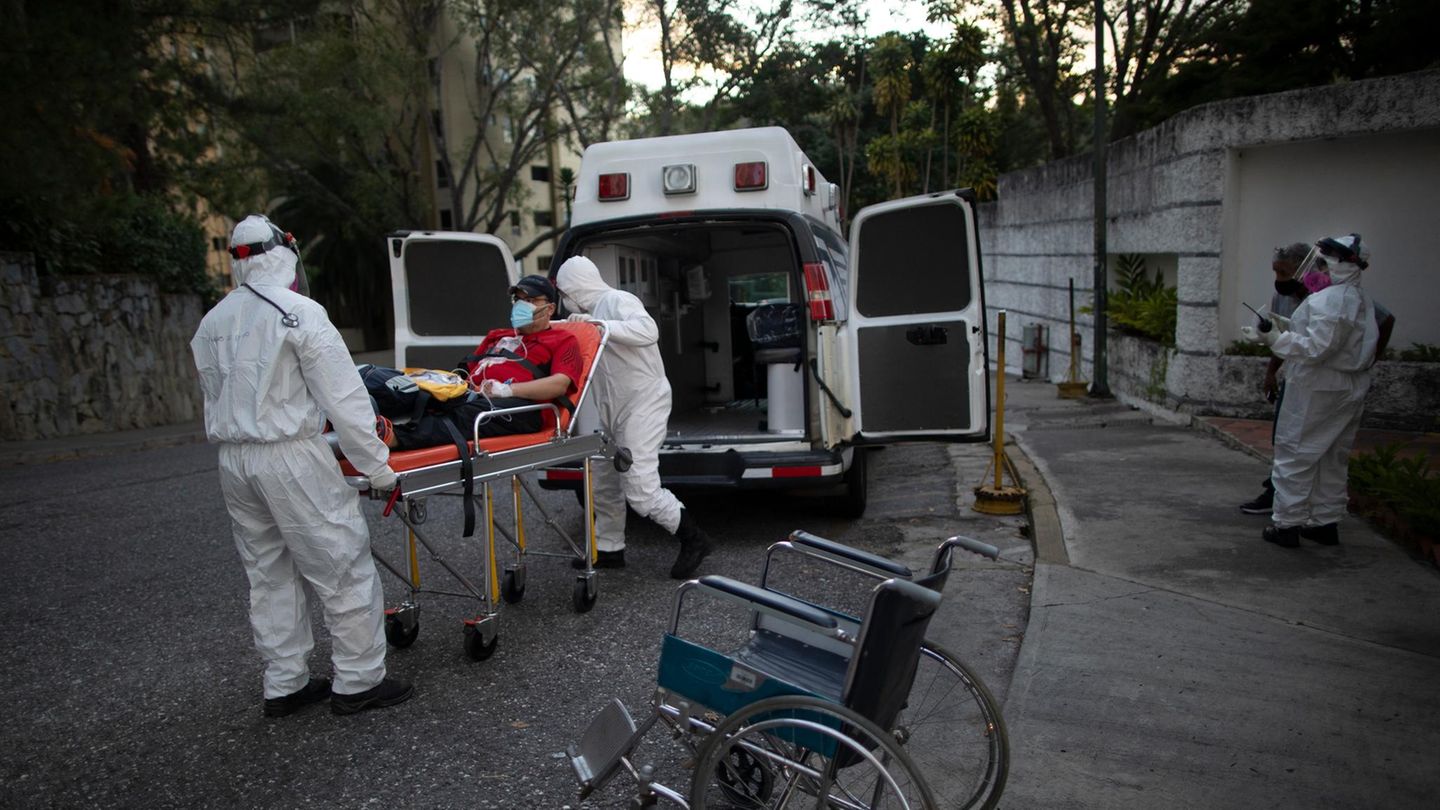 Because of the dramatic Corona situation, the hospitals in Venezuela are hopelessly overcrowded. Those who cannot afford it have to look after relatives suffering from Covid-19 at home. But that also costs money.
Gabriela Rodríguez looks after four relatives who have Covid-19. She cannot hope for hospital beds - the health system in Venezuela is in that Corona pandemic completely collapsed. And the 31-year-old has long since used up her own savings. In order to buy medication, she is now hoping for donations from the Internet. This makes her one of a growing number of Venezuelans looking for help on sites like GoFundMe.
Since Rodríguez lost her job in a travel agency because of the pandemic, she lives on $ 80 a month. Then her 67-year-old mother, her grandparents at 59 and 67 and a cousin at 80 years of age contracted Covid-52. "That was a nightmare, a horror," says the young woman.
Because there are too few hospital beds in a country plagued by inflation and sanctions, Rodríguez takes care of her relatives at home. The cost of medication alone adds up to $ 300 a day. Rodriguez pawned her car, but it wasn't enough. Then she posted a $ 5000 appeal on GoFundMe and raised $ 1075 - money that was hers Mother saved life, as Rodriguez tells in a trembling voice.
Dependent on financial support from the net
Like all of South America is fighting too Venezuela with a violent new wave of pandemics, which, according to the authorities, is being fueled by the more infectious virus variants from Brazil. Venezuela has 165.000 cases of infection and nearly 1700 deaths according to official figures, but human rights organizations like Human Rights Watch consider these numbers to be far too low.
Finding a bed in a government hospital is getting harder by the day, and private clinic costs range from $ 1000 to $ 3000 a day - unaffordable for most people. They are making their way to the Internet: GoFundMe has more than 2300 calls for all kinds of support, mainly for medication and oxygen bottles.
"Help me save my mother's life," said an appeal for donations. "Help my grandmother get through Covid-19," in another. "I know that nobody has enough money," wrote Rodríguez for her part. "I would be very grateful if you could help with a donation, no matter how small."
"It's called GoFundMe or Die."
María Angelina Castillo asked during the 2020 lockdown when the hospitals among the number of corona patients collapsed, on GoFundMe for help with cancer treatment. "There is no other way," she says. "It's called GoFundMe or Die."
Jaime Lorenzo from the non-governmental organization Médicos Unídos Venezuela emphasizes that the demand for hospital beds far exceeds the supply: "The collapse is huge." According to the union leader Mauro Zambrano, "the clinics are completely full" in the capital Caracas.
The government actually wants to vaccinate 70 percent of the country's 30 million inhabitants this year, but has not even received a million doses so far. This rare commodity is now given priority to health care workers, teachers and government officials.