Now it should go as quickly as possible: After the cabinet has put the federal emergency brake in motion, Chancellor Angela Merkel is hoping for the support of the other parties. But there is plenty of resistance there.
For a long time, the federal and state governments have worked together in the fight against the corona virus. But in the end it no longer worked with the common line. Chancellor Angela Merkel left no doubt about that during a statement at the Chancellery on Tuesday. Shortly beforehand, the cabinet had therefore decided to amend the Infection Protection Act, which should temporarily give the federal government more rights of intervention. However, the Bundestag still has to give its approval, and the Bundesrat also has a say.
Federal emergency brake
When the seven-dayIncidence (Infection within one week per 100.000 inhabitants) exceeds the threshold of 100 on three consecutive days, stricter measures should apply there from the day after the next. These should remain in force until the seven-day incidence falls below the threshold of 100 on five consecutive days - then the extra conditions will expire on the day after the next.
There is fundamental criticism of the draft law: "What we have now received is a makeshift solution for an emergency brake," said the Greens parliamentary leader Katrin Goering-Eckardt. In particular, she missed stricter requirements for the world of work, with more extensive requirements for the home office and compulsory tests. However, employers will have to offer a compulsory corona test in the future, without there should be a test obligation for employees. The cabinet decided in an ordinance on occupational health and safety. This has been massively criticized from business, and the SME Association has announced a lawsuit.
According to the cabinet decision, the following is also planned:
Private contacts
A maximum of one household may meet with one other person, a maximum of five people in total. Kids up to 14 years count extra. This does not apply to meetings between spouses and civil partners or to exercise custody and access rights. Up to 15 people can come together at events about deaths.
The Greens are critical on this point: It is alien to life that the regulations do not differentiate between indoor and outdoor encounters, said parliamentary group leader Göring-Eckardt. Just the day before, leading aerosol researchers had pointed out that Sars-CoV-2 is almost exclusively transmitted indoors.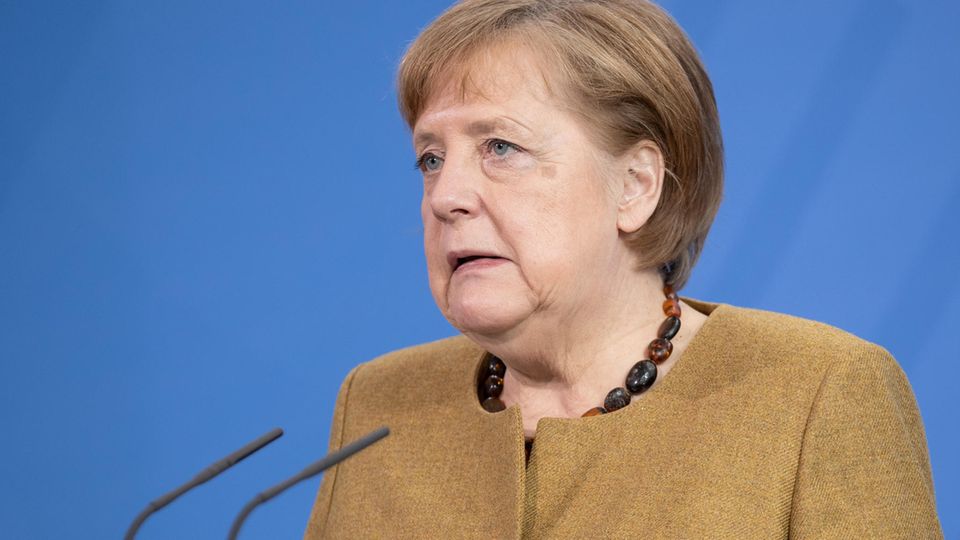 Exit restrictions
You are not allowed to leave your own apartment or property between 21 p.m. and 5 a.m. Exceptions are the "averting danger to life, limb or property" such as health emergencies for humans and animals or urgent medical treatment. As a rule, the exercise of a profession or mandate and journalistic reporting are also excluded. The same applies to the exercise of custody or access rights, the urgent care of those in need of support or minors or the accompaniment of the dying, care of animals or "similarly weighty and irrefutable reasons".
There are massive concerns here: "In the further procedure we will check again intensively that other criteria are used in addition to the incidence value," announced SPD- Vice President Dirk Wiese. The FDP also has concerns. "The law should be linked to the bare incidence figure as a fact. But it is unreliable and does not reflect the situation on site clearly enough ", said the liberal Marco Buschmann of the" Welt ". Bremen's Mayor Andreas Bovenschulte (SPD) even sees "major legal problems".
Recreational facilities
Facilities such as swimming pools, saunas, discos, brothels, wellness centers, excursion boats or indoor playgrounds have to close.
Geschäfte
Shops or markets with customer contact have to close. Exceptions are the food trade including direct marketing, beverage stores, health food stores, baby specialty stores, pharmacies, medical supply stores, drug stores, opticians, hearing aid acousticians, gas stations, newspaper sellers, bookstores, flower shops, animal and feed markets and garden centers. However, these are only allowed to sell the usual range. There are limits to the permitted number of customers depending on the sales area. In enclosed spaces, customers must wear an FFP2-level mask or a medical mask.
Culture and zoos
Theaters, operas, concert halls, stages, music clubs, cinemas (except drive-in cinemas), museums, exhibitions, memorials, zoological and botanical gardens must close, and corresponding events are also prohibited.
Sport
Only contactless individual sports are allowed that can be practiced alone, in pairs or with members of the household. There are exceptions for professional and competitive athletes.
Gastronomy
The operation of restaurants and canteens is prohibited. However, there are exceptions, for example, for dining rooms in rehabilitation centers or nursing homes, caring for the homeless or for long-distance drivers. Pick-up of takeaway food and beverages is allowed, as is delivery. Only deliveries are permitted between 21 p.m. and 5 a.m.
Body-hugging services
Services that are physically close to the customer are prohibited. Services "which serve medical, therapeutic, nursing or pastoral purposes as well as hairdressing businesses" are excluded. As a rule, FFP2 masks or masks with the same protective effect must be worn. If you want to go to the hairdresser, you have to show a negative test result that is no more than 24 hours old.
Local and long-distance transport
Masks with FFP2 level are compulsory in buses, trains and taxis. If possible, only half of the regular passengers should travel.
Tourism
The rental of tourist accommodation is prohibited.
Regardless of the emergency brake, the following applies:
Schools
Students and teachers must be tested twice a week in face-to-face classes. In addition, a separate emergency brake applies here: If the seven-day incidence exceeds the threshold value of 200 on three consecutive days, face-to-face teaching in schools, vocational schools, universities, adult education institutions and similar institutions is prohibited from the day after next. Exceptions for graduating classes and special needs schools are possible. This brake also applies to daycare centers, but the federal states can enable emergency care. The school brake is overridden if the seven-day incidence is below 200 for five consecutive days.
There is also criticism here: The Greens are calling for more protection for children and young people. Classroom teaching must be reduced from an incidence of 100. "For all other areas the emergency brake applies from 100, in the education area lessons can take place on site up to the double incidence", criticized the head of the Association of Education (VBE), Udo Beckmann. "For this deviation, we demand a scientifically verifiable justification and the definition of additional measures to be taken for incidences between 100 and 200."
Further regulations
The emergency brake does not affect further regulations and prohibitions related to infection control. Church services are also not covered by it.
Federal ordinances
In addition, if the incidence is over 100, the federal government should be able to issue its own regulations to protect against infection, which is normally a matter for the federal states. The well-known catalog can be found in it Corona- Regulations should be included, from quarantine regulations to the mask requirement to the closure of certain facilities. But relief would also be possible, especially for people who are considered immune or who have a negative test.
However, the Bundestag and Bundesrat must approve these ordinances - This should already be the case with the Bundestag if it has not expressly refused its consent within seven days. The Bundestag's reservation of approval is a crucial point, says SPD parliamentary deputy Dirk Wiese, who helped negotiate the law. The FDP sees this much more critically. The involvement of parliament remains vague, criticizes Buschmann. The deadline is too short.
Duration of the regulations
Both the federal emergency brake and the possibility of federal ordinances only apply as long as an epidemic situation of national scope is deemed to have been established in Germany. This is currently the case, but the Bundestag has to confirm this every three months.
Fast-trackAs the Chancellor would like, this new version of the Infection Protection Act will probably not be passed. In the Bundestag, the parliamentary groups do not want to grant a waiver of certain deliberation deadlines, which would have made it possible for a parliamentary resolution to be passed this week. The DPA news agency learned this from parliamentary groups.
ie DPA AFP