Brazil's President
Bolsonaro makes Trump and makes ominous threat before the elections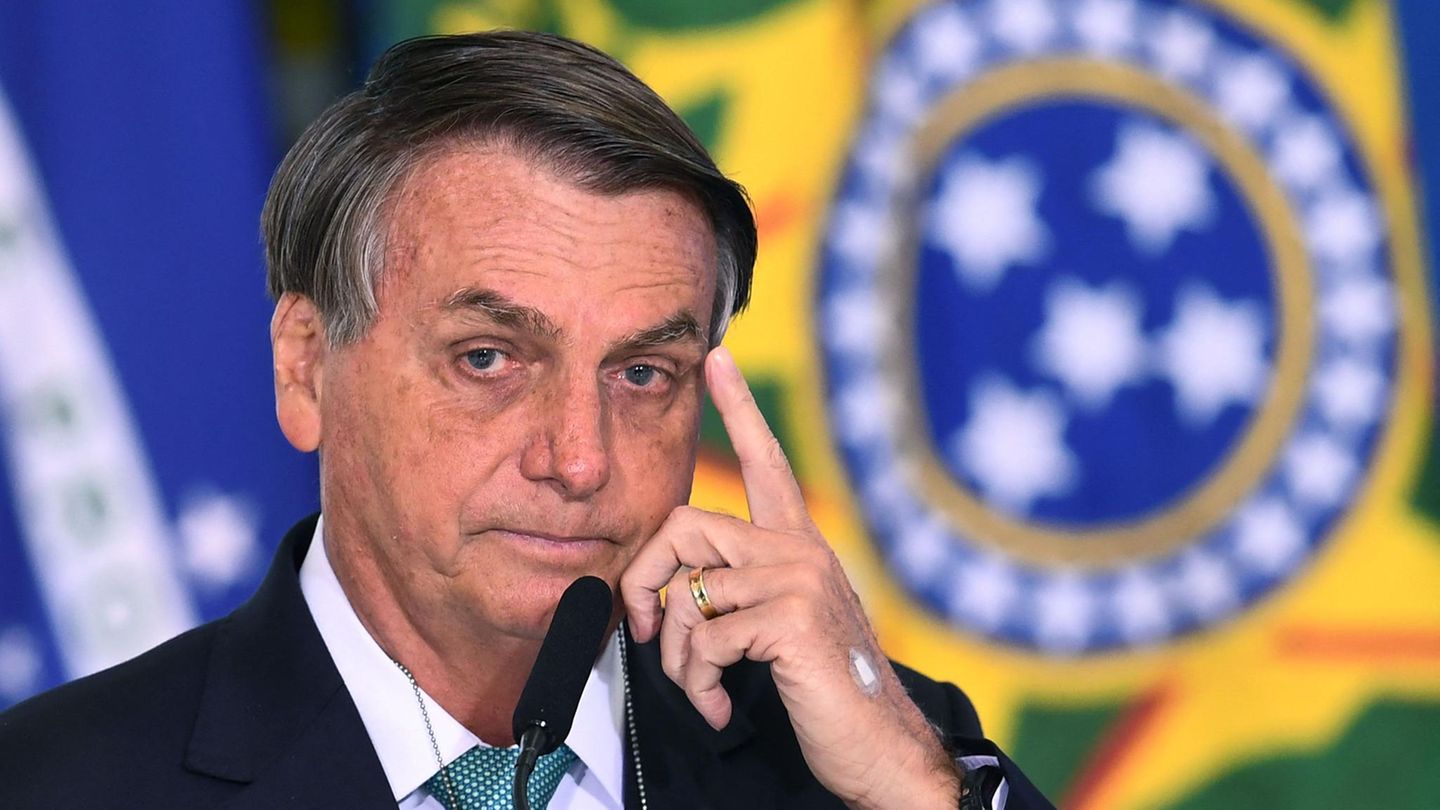 Brazil's president is losing popularity. Jair Bolsonaro is now renewing his call for electoral reform - otherwise he may not want to accept the election result.
Brazilian President Jair Bolsonaro may not want to accept the result of the presidential election next year - unless the electronic voting system is reformed. "If this method is continued, they will have problems," said Bolsonaro in a radio interview. reported by the Reuters news agency. "Because one side, namely our side, may not accept the result."
Brazil's President sows doubts about election
After Bolsonaros The idea is to replace the electronic voting system, which records votes via computer, with printed ballot papers. A corresponding draft law has so far not found any major indictments in Congress, according to Reuters.
The camp of the right-wing extremist president has long cast doubts about the system, which is considered safe and was introduced in 2000 - for example, to simplify the casting of votes in different time zones and make it more accessible. Allegedly, the current system is prone to manipulation and fraud. Bolsonaro has yet to provide evidence of this.
His comments fuel concerns that he might follow in the footsteps of former US President Donald Trump. He claims to this day that the election was "stolen" from him and that there was massive election fraud - there is no evidence for this, several courts dismissed corresponding lawsuits.
Bolsonaro defended Trump's election fairy tale at the time, which culminated in a violent riot at the U.S. Capitol on January 6 - and raised concerns that the 2022 election in Brazil could lead to scenes similar to Washington's. Because of the electronic voting system, there is also "fraud" in Brazil, he said. Even then, he called for a return to the traditional choice of paper.
Much like Trump, Bolsonaro seems to want to cast doubt on the legitimacy of the upcoming elections. In polls, he is currently behind the former President Luiz Inacio Lula da Silva. Bolsonaro was wearing in the wake of the corona crisis that hit the country hard Popularity forfeited. More than 500.000 people have died from and with a Covid 19 infection so far. Many blame his crisis management team for this. Bolsonaro has repeatedly downplayed the danger posed by the corona virus.
Bolsonaro is unfazed by corruption investigations
In addition, the president is charged with corruption allegations. Bolsonaro was recently unimpressed by the investigation. "I give a shit about him committee of inquiry. I won't answer, "he said on Thursday in a video message. "I will not react to these people in any way, they are not concerned with the truth, only with wearing down the government."
Brazil head of state is said to have been informed about a "gigantic corruption system" in the Ministry of Health, according to a lawsuit by three senators, but did not take any action against it. It is about corruption in connection with a contract for the corona vaccine Covaxin, which is manufactured in India, worth around 250 million euros. The public prosecutor's office had therefore initiated preliminary investigations against the president. A parliamentary committee of inquiry is also dealing with the matter.
Sources:Reuters, n-tv, "The mirror", with material from the AFP news agency
fs